Film Festival leaves prints all over Boston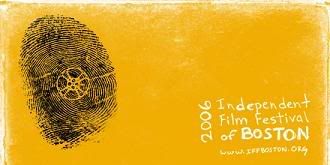 The ubiquitous icon of the 2006 Independent Film Festival of Boston, a thumbprint with a film reel embedded in the center, is perfectly emblematic of the staff, volunteers, and attendees of this 4th annual celebration of cinema. They all bear this symbolic, permanent mark. The excitement and amicability these film zealots exude exposes their genetic, and infectious, love of filmmaking; there is no rigid hierarchy at the festival – whether filmgoers have a Chrome Pass

With this congeniality, however, comes sycophancy. Although the obsequious crowds, many of whom proudly showered compliments upon even the worst of trash in hopes of gaining indie-cred, became a bit grating, most were approachable and willing to defend their opinions in a spontaneous discussion on the sidewalk outside the theater. The Someday Café, which is conveniently adjacent to the Somerville Theater, was another popular forum for impromptu, intimate film symposiums – and the baristas made damn good lattes which kept me awake through the twenty-six hours I spent in a dark theater with flickering lights.
or a ticket to a single screening, their passion for independent film unites them.


Opening night was greeted with a line which sprawled around the antique Somerville Theater in Davis Square – which served as the Mecca for low-budget-film believers. The massive queues -- which continued throughout the six days of the festival, an extension from last year's four -- were so long that concession-snacking patrons had eaten most of their popcorn and candy before they even entered the theater doors.


Seventy-four films, the largest in the festival's career, screened from April 19th to April 24th. The film festival began auspiciously with Half Nelson, an evocative and socially conscious study on the platonic, and implicitly political, relationship between a promising pupil, Drey (newcomer Shareeka Epps), and Mr. Dunne, 8th grade history teacher (an impressive and scruffy Ryan Gosling, who proved himself a worthy actor in 2001 with The Believer), who is not as responsible outside of the classroom as the school expects him to be. He commits reprehensible acts that no conscientious teacher would practice, such as smoking crack to the beats of Broken Social Scene, being blithely promiscuous, and watching Charles in Charge. After basketball practice one day, Drey accidentally catches Mr. Dunne puffing his crack-pipe in a stall. This encounter, of course, complicates their relationship yet strengthens their bond of trust.


Half Nelson may deceptively sound as if it is a victim of its own dangerously hackneyed genre – unorthodox-teacher-inspires-youth-and-the-youth-reciprocates – but it is actually the defeater of its own brand. It upends the conventions which make those films, like Dead Poet's Society, so spurious and shamelessly manipulative. The naturalistic performances ground the film in a harsh reality, which is enhanced by the film's gritty exterior. Half Nelson is in no hurry to create convenient characterizations – nuances and details organically become apparent throughout the production.


Although the personal drama is handled intimately, the racial issues which the film addresses -- and subsequently marginalizes – are not dealt with confidently. The subordination of such issues, which never materialize much, leads one to believe that the filmmakers (Ryan Fleck and Ana Boden) had more to say than what ended up being communicated. Therefore, the topical portion of the film is unfortunately reduced to mere black-face paraphernalia and brief student presentations of revolutionary events which are jarringly placed in between scenes to overtly emphasize the filmmakers' rage against humanity's past injustices. Nonetheless, Half Nelson is a powerful and authentic glance at narcotics, schoolteachers, and change due to conflicting forces.

F
ilm festivals offer an outlet for aspiring filmmakers who are just average guys and, quite often, you will encounter a film that is quite average. I stumbled upon a few cases of this dreadful mediocrity in two particular films which both focus on failure and, coincidentally, fail to transcend their trite plots: Cocaine Angel and The Last Romantic.


Cocaine Angel was the second film I saw at the film festival and, after Half Nelson, I was beginning to believe that hard drugs would be a festival motif. While Half Nelson is bleak yet diligent, Cocaine Angel is downright unconvincing. Cocaine Angel opens with the protagonist, doughy-faced ex-family man Scott, going through the tedious process of shooting-up. Similarly, the film itself is a drab, inept and utterly amateurish exercise in uninspired "oh-that-looks-cool" filmmaking, which hopelessly depicts a hopeless cocaine addict in the frame of a few days. The neophyte filmmaker, Michael Tully, is under the false impression that jittery camerawork and violin-infused music will compensate for the lack of genuine dramatic imagery in his lens. Even the dark humor in the film falls flat. A Q & A with Michael Tully afterwards validated my opinion on his clueless and arbitrary approach to directing.
If you have been to a film festival before, or perhaps even seen a film about a naïve writer coming-of-age, then you can indubitably skip the Manhattan-based The Last Romantic; its title is even representative of the ever-approaching, and very welcome, end to this category of film. From the start, the deep irony of this platitudinous production rears its head as both the musical score and the voiceover are reminiscent of the best love story of the past ten years: Eternal Sunshine of the Spotless Mind. The Last Romantic fizzles so massively because it believes its earnest quirkiness, changing color-palette and livejournal-deep ruminations are charming and fresh – but it's all very derivative and irritating. Essentially, the film is about leaving one's mark on the world – which is literally played out in a cringe-worthy scene when the protagonist pens his name onto a subway seat before departing – and the filmmakers, Aaron and Adam Nee, have undoubtedly left their stain on the projection screen.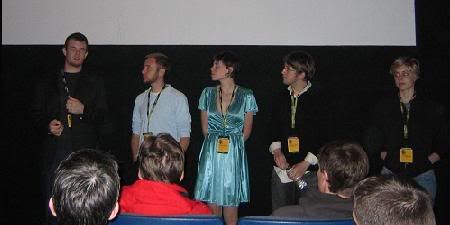 At the opening night gala, before the screening of Half Nelson, a snazzy video iPod was raffled off to a lucky ticket-holder. There was no such giveaway at the screening of Joe Swanberg's LOL – a penetrating, yet casual, look at the deterioration of human relationships in the face of technology -- and those who were hoping for a cosmopolitan BlackBerry 8700series were sorely disappointed. In fact, some BlackBerry models may cost more than the budget of this film, which was an admirably scant $3000. As an individual who is both enthralled by the internet's sticky web and terribly frightened by technology, LOL's nonchalantly incisive depiction of human alienation due to technology's omnipresence and domineering affects stuck me as truthful and heartbreaking. It can get a little repetitive and implausible in its observations, but it gains much credit for not resorting to a didactic 'technology-is-bad' viewpoint. LOL's laid-back approach to its message is what makes its vitriolic thesis so unsettling.


Thus concludes my journey into a weekend of queues, coffee, delirium and DV. I attended twelve films in five days during its six-day run, and the best two and the worst two were critiqued above. At one point in the festival, I had to buy a big bucket of popcorn – named after Orson Welles' corpulent character from Touch of Evil – in hopes that the mechanical arm motion would keep me from either falling asleep or going insane. Now, perhaps I can be patient for the madness that will inevitably ensue once the 5th Independent Film Festival of Boston comes around next Spring. Being a sane and considerably less sadistic moviegoer for 360 days of the year just isn't as much fun.