I thought I was too old to have obsessions.
My triumphant return to college/Boston will occur tomorrow, Monday. I stopped working and promptly started packing last Saturday. Since then I have been in some strange, transitory phase both physically and psychologically. I am prepared to leave, but I must stay for a week. I'm glad this week, which I've so sorely wallowed through, has finally come to an end (I had my wisdom teeth pulled to keep me busy, it seems). I've been arduously fighting off ennui, like always, with film, literature and music; I'd lead a completely insignificant life without them. Over the past week, I have fallen in love with a novel and a music video (that covers both film and music, correct?).

The novel is Virginia Woolf's delicate, yet tough,
To the Lighthouse
(more on that in my 'summer reading recap,' which should appear here in the near future). I discovered the music video --a medium I usually feel indifferent towards because the music occasionally clashes with the imagery in a negative way-- while browsing youtube in my boredom. The video is for
Belle and Sebastian's catchy/meloncholy (of course, it's Belle and Sebastian) "Jonathon David."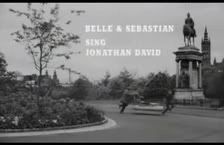 How this video escaped me before, I have no idea -- but I'm very glad I did encounter it. It's my favorite contemporary band making a music video which closely resembles a French New Wave film (complete with jump cuts!).
Enjoy -- as I have many, many times.
Does any particular film come to mind? I know one does. Take a wild guess.