More proof that God hates me (and the human race).
Why were wisdom teeth (and, after I think about it, an appendix) ever placed in the human body (namely, mine)?
Today, I will have my wisom teeth removed. I know it's a rather simple operation, but I am not comforted by the idea of an operation being done in the back of my mouth. My grandmother called me yesterday to wish me 'luck' during the operation. This, of course, struck some sort of mental --not dental-- nerve; why would she call to wish me luck if it wasn't a big deal?
So, thanks to my well-intending granmother, I have a vision in my head which is somewhat similar to this cartoon I encountered: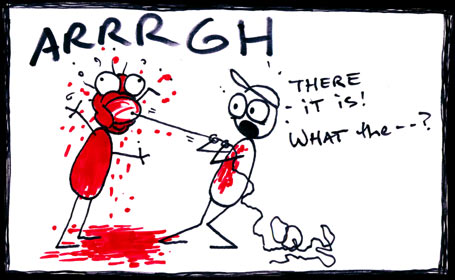 I believe three of my wisom teeth are 'impacted' (I've avoided finding out what that means for my own mental health, because I don't think its good). I will, fortunately, be put to (temporary) sleep when they start sawing away (a friend, who had them moved in Spain, just had a shot or two of novocaine -- the horror!).
Needless to say, I will probably be watching A Chipmunk Adventure for the whole week -- and I'll try to steer clear of Little Shop of Horrors and Timmy the Tooth.
Therefore, please share (audience participation!) your stories of painful jaws, applesauce and painkillers. I need them.